Featured Attractions:


Noel is located in the far southwest corner of Missouri...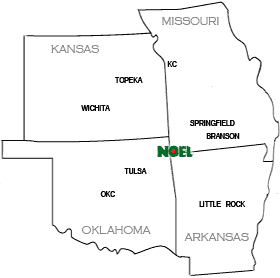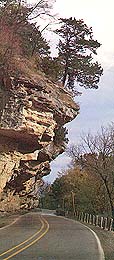 It is beautifully situated on the Elk River, and is ringed by timbered Ozark mountains. Noel is centrally located for canoe trips down the Elk River and its tributaries of Big Sugar Creek and Indian Creek. These fast-moving, clear-water streams bisect some of the grandest scenery in the Ozark range. It has been a perennial favorite of vacationers for more than half a century.
Among Noel's pleasant surprises, if you are a visitor used to endless tourist traps, is what is not here. You'll find no towering waterslides, no gaudy music emporiums, no sea plane rides, and no amusement parks. Dotted along the banks of the Elk River are lovely, shaded camp grounds and picturesque motels.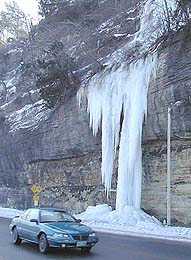 Outdoorsmen have made Noel the canoe capital of the Ozarks. There are a number of canoe rental outlets that offer various lengths of float trips. Noel is for relaxing!
Like the rest of the Ozarks where Noel is located, trees create as much a blaze of color in the fall, as the wildflowers do in the Spring. But, its the bluffs overhanging the roads that are the most breathtaking. They provide a panorama of limestone splendor unmatched in the Ozarks.
Visit us, and discover the beauty of Noel...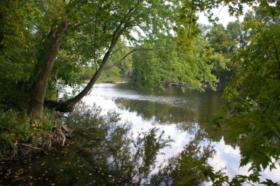 Site
Contents:
Dining & Entertainment Guide & Reviews
Reviews of all restaurants, cafes, bars and night clubs in McDonald County.
Visitor Info.
Information about local campgrounds, restaurants, and other attractions.
Photo Gallery
Photographs of the Noel area.
e-PostCards
FREE digital postcards that you can send to your friends and family.
Christmas Postmarks
Information about the special Noel Christmas postmarks.
Noel Q&A and Annoucements Forum

---

---
Serving the Noel area since

1996

.
This is one of the longest-running continually-operating community websites
on the Internet!
www.4Noel.com
© 1996-2016
Bruce Arnold,
Consulting
Excerpts from the Noel Chamber of Commerce Brochure © 1987,
Used by permission.
---